In 2019, my husband and I spent three weeks in Tanzania. For me, it was a childhood dream that had finally come true, a dream I had cherished since 1984, because in that year the teacher Walter Rausch came to my school. I was 15 at the time. Walter had lived and worked in Tanzania for four years before that and brought countless stories with him.
For me, the big wide world had come to my small town. I was endlessly fascinated and dreamed of traveling to Tanzania one day. But it wasn't until more than 30 years later that this dream came true, when my husband and I traveled through the country together with Walter in 2019.
In the course of his life, Walter has also built up a considerable private aid organization, and in the meantime has founded the association Tanzania AG of the Friedrichs-Gymnasium Herford e.V. for this purpose. With an impressive personal commitment, he collects donations in the five-digit range every year, which are mainly used to support the schooling and vocational training of children whose parents could not otherwise afford it. The donations - 100% of which, by the way, end up in Tanzania and with Tanzanians in need! - Walter usually distributes personally on site if possible, and that can be as many as 170 families, which he looks after.
AN UNFORGETTABLE DAY AT SCHOOL
We had a very impressive day when we were allowed to visit the Msasani Primary School in Dar es Salaam. It is a school for hearing impaired and deaf children, some of them with further mental and physical special needs. Some of these children are regularly supported by the Tanzania AG.
The principal not only gave us an extremely warm welcome, he introduced us personally to each class and we were allowed to take photos everywhere. After these photos I painted the first five pictures of the series "School Children in Tanzania".
Since then I support with my art actively the work of the Tanzania AG of the Friedrichs-Gymnasium Herford. From each sale of a picture from this series, a donation of 20-30% goes to the association. I also usually set up a donation box at art exhibitions wherever possible.
Two paintings from the series are now part of the international portrait collection "The Art Connect" of Standard Chartered Bank in Taiwan.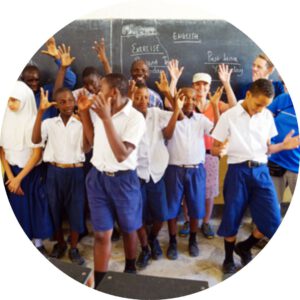 Check here which paintings of the series "School Children in Tanzania" are still available: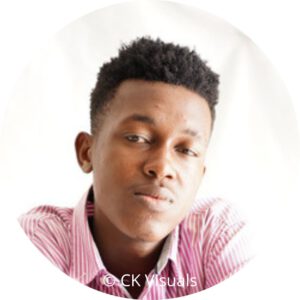 COLLABORATION WITH THE PHOTOGRAPHER CK
Since 2021 I have been working with the young photographer CK from Dar es Salaam. He has already been to Msasani Primary School once on my behalf to take more reference photos for my series "School Children in Tanzania". I have also sent other models I wanted to paint to him for a photo session.
EXHIBITION IN AUGMENTED REALITY (YouTube-Link):
READ MORE ABOUT TANZANIA IN MY BLOG: