Schoolchildren in Tanzania 1, 2019 | oil on canvas, 50 x 100 cm

Do You Want To Make A Difference?
Here's How:
This text by Seona Sommer was published first in SommerKunstBlog on 22 June 2020. Here you are reading the translated and slighty edited version:
I am telling you right away: this article is about art, yes – but mainly it's about money. Not about my money, but about the money that is missing – in Tanzania. After you have finished reading this article and if you feel somehow moved my it then please check your wallet immediately and think about how much of it content you can donate - even if it's only a small amount like 5 EUR. And please also think about who you could share this article with so there will be more donations eventually.
Schoolchildren in Tanzania 2, 2019 | oil on canvas, 80 x 100 cm
Schoolchildren in Tanzania 5, 2020 | oil on canvas, 80 x 100 cm
Msasani Primary School in Dar es Salaam
Trip to Tanzania
In 2019, my husband and visited Tanzania for three weeks. For me this meant a childhood dream since 1984 had come true. I already wrote a longer article on how this happened in another blog post 77 (which you can find >>here if you understand any German).To put it in a nutshell: we were travelling with Walter Rausch, who found his second home in Tanzania at the beginning of the 80s and who has been travelling back and forth numerous times since then. Walter is also the founder of the private German association Tansania AG des Friedrichs-Gymnasiums Herford e.V. With an enormous personal effort, he annually collects five digit donations (EUR) that substantially help to support Tanzanian children's school and vocational education. Without this support, their parents would not be able to send their children to school. Walter personally distributes each and every donated cent to the families (number of 170 families was 2019).
Schoolchildren in Tanzania 4, 2020 | oil on canvas, 80 x 100 cm
Schoolchildren in Tanzania 3, 2020 | oil on canvas, 80 x 100 cm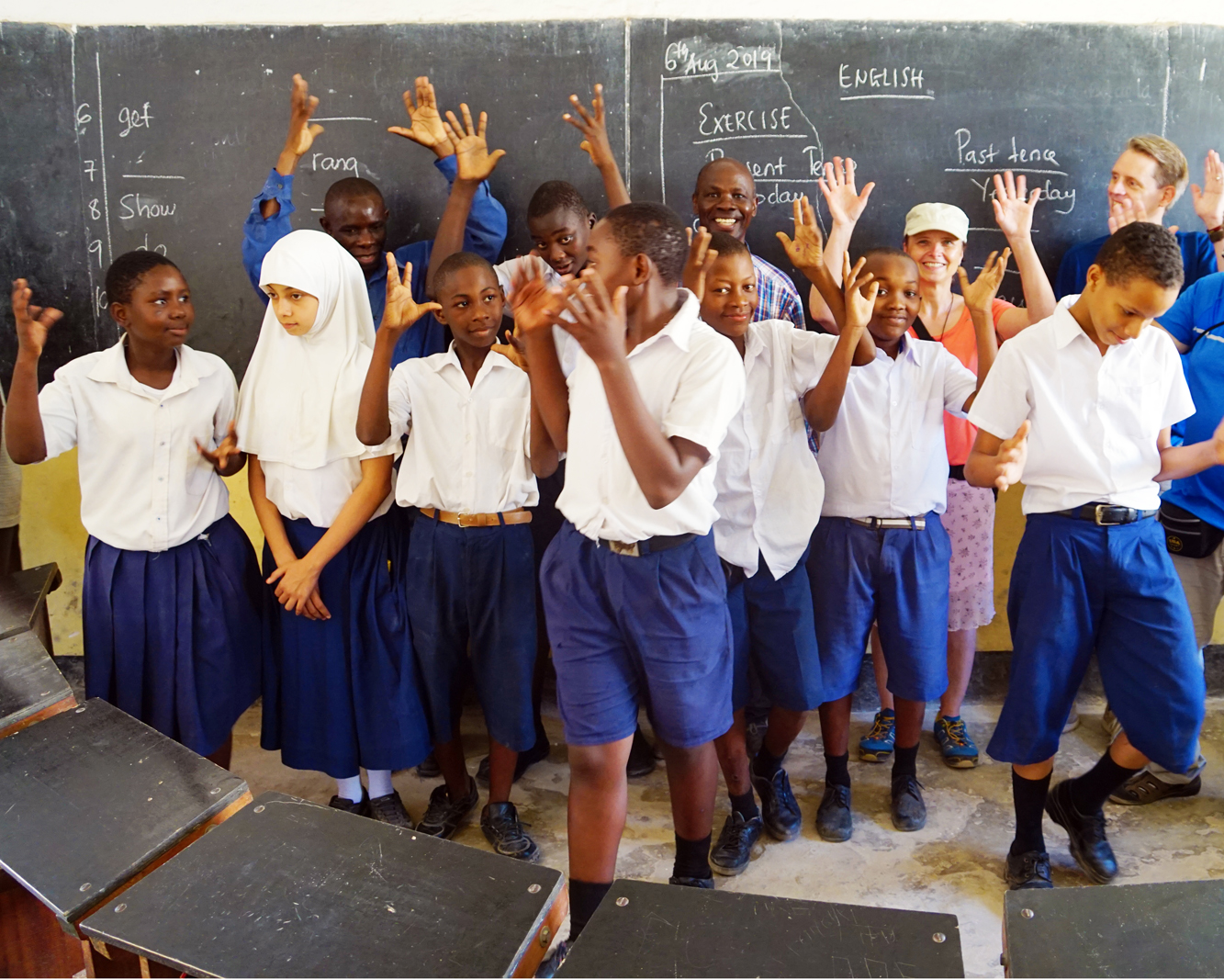 Verabschiedungsgruß an der Msasani Primary School
An Unforgettable Day at School
We were deeply impressed on day when we had the chance to visit Msasani Primary School in Dar es Salaam.This school caters for hearing impaired children, some of whom have additional disabilities. The School Prinicpal very cordially welcomed us and allowed us to take photos in all classrooms. The photos are intended for the website of Tansania AG, which is still under construction. Some of the school's children are already supporten by Tansania AG.
It is extremely easy to make a big difference with little money. The School Pricipal pointed out a physically impaired boy to us who was not able to sit on the simple wooden school benches. He had to sit on the stony floor instead. He desparately needed a wheelchair! His parents were not able to afford one. We quickly found out that it only took 130 EUR to change this boy's life forever. To us, this is relatively little money and we quickly agreed to donate the necessary amount. We had been back home in Cologne for a while already when Walter sent us a photo showing the boy in his new wheelchair. And Walter told us that on the day when he delivered the wheelchair he was welcomed and applauded by all pupils and the complete staff of the school, who were all so excited for this lucky boy. I was not there, but simply by Walter's way of telling the story and my imagination of that moment; I am still moved to tears when I try re-telling the story. I always feel joy and shame at the same time (the latter one because of the awful disparities of goods and life circumstances in our world). My husband knows me and usually ctakes over telling the story.
Walter, 2017 | oil on canvas, 50 x 50 cm
"On my journeys, I am always amazed about how different people are and at the same time how equal."
~ Walter Rausch
YOUR DIRECT CONTACT TO TANSANIA-AG
You may also just send your donation by PayPal to the following email address - refer to "SommerKunst": walter.rausch(at)t-online.de
Receive updates on the Humanity Projects: