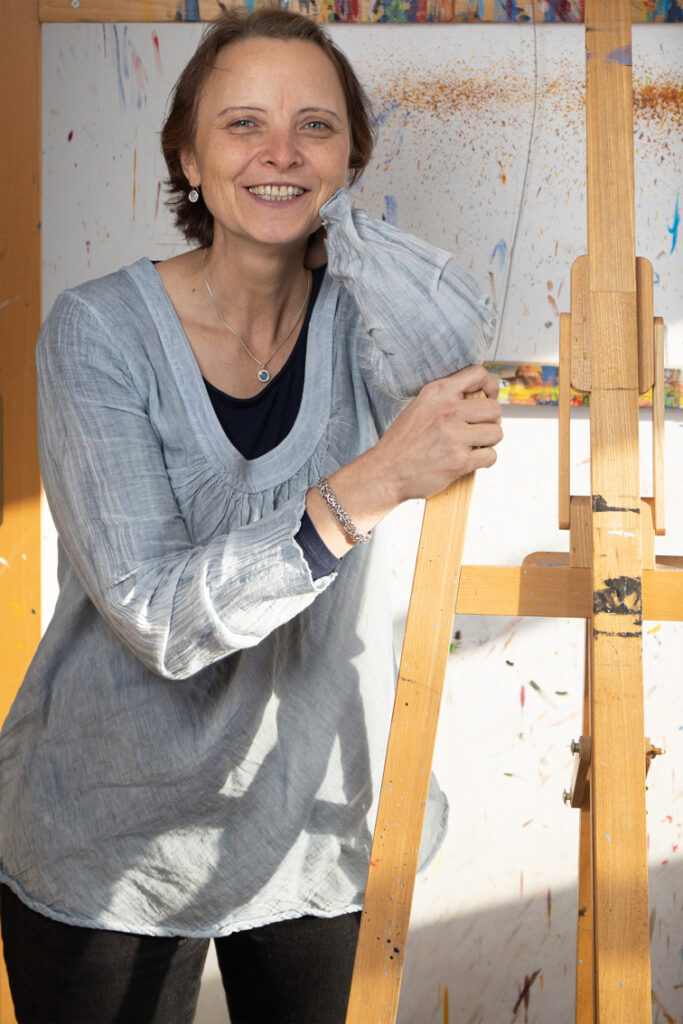 Seona Sommer is a primarily self-taught contemporary figurative artist from Germany. Her compelling portraits promote humanity & diversity and offer intriguing insights into people's souls.
She was also a founding member and managing director of  Brücker Kunsttage. In 2020, she successfully completed the professional development training  M.B.A.: Mastering the Business of Art™ at Professional Artist Institute. Furthermore, she published three books for artists on how to organize themselves and prepare for exhibitions. In 2021, she became a member of the artist association Kunst Stuttgart international e.V.
Seona is a strong advocate for humanity & diversity and has started two Humanity Projects with a current focus on Tanzania and India. She has an ongoing collaboration with a small project that helps children in Tanzania to fund their school education. And she has a collaboration with a handful of international and professional photographers who pursue similar goals. Read more on this topic by selecting Humanity Projects in the above menu and in her blog by choosing the category of the same name.
After finishing her M.A. Seona worked as a German language lecturer in Oakland/California and Puebla/Mexico. In 2000, after four years abroad, she returned to Germany and started painting in 2004. Seona attended workshops with Dirk Dzimirsky, Eric Pouillet, Eloy Morales and Alejandro Carpintero.
Her works have been exhibited all over Germany, in several other European countries and in Taiwan. They have also been shown in online exhibitions internationally as well as been published in international art magazines.
Based in Cologne, Seona works as a full-time freelance artist.
Scroll down to read the artist's statement.
Scroll down further to learn more about Emotional Realism.
Scroll down to the end to see who I cooperate with.
Or click the button to see the complete artist's vita & awards.
DISCOVER EMOTIONS | FEEL THE PEOPLE
My approach to portraying people is entirely emotional, rooted in my absolute love of faces and emotions. I begin my creative process by building up a certain degree of comprehension of information in the reference photo. I do not start the portrait unless I can clearly envision and feel the the finished portrait. I aim to comprehend and appreciate a person's soul with full compassion. My working process is rather slow. I do not believe in quick answers when immersing myself in the spirit of the individual. Applying layer after layer, I work with passion, precision, and lots of endurance. I do not call a portrait finished unless the result evokes the same feelings that I sensed in the very beginning.
I strive to tear down borders and overcome distances with my artwork. While I explore the great variety of different cultures and individual characters, I also zoom in on an individual's emotions - worries and joys, fears and hopes, sorrows and luck, passions and ambitions.
By capturing everything I perceive, I strive to overcome differences, focusing instead on similarities. The essential objective in my work is to encourage one-on-one human encounters of all kinds and look for common ground. In this way, I wish to make a contribution to the world so that all people can live together in peace everywhere. Through my art, I am a strong advocate of humanity and diversity.
Totally fascinated by faces and emotions, I work with passion, precision, and stamina when striving to portray each figure lifelike and cast them in an amiable light.
I have always been fascinated by the diversity of humankind and the the complexity of emotions. I was first inspired when I saw Gerhard Richter's painting "Die Lesende" (or "Reader" in English) at San Francisco Museum of Modern Art, that did not only show a portrayed woman but conveyed a fully emotional experience to me, in which I felt extremely close to my inner self, the painting, and even the entire universe. In this moment, I experienced a special kind of inner peace and wholeness.
Later I became interested in modern hyperrealists like Dirk Dzimirsky (Germany) and Eloy Morales (Spain). In my artwork, I try to combine techniques used in realism and hyperrealism with my usually positive feelings about the portrayed person. The result on the canvas always mirrors the perception of what I feel. It shows my own emotionally perceived reality. I call my work Emotional Realism therefore.
As a visual artist, I spent the many hours when creating my artworks completely alone in my studio. I like it a lot to be all by myself accompanied only by the colors and brushes as well as the faces that I portray. And yet I do not feel alone at all! Quite the reverse, in a very special way, I feel closely connected with the figures on the canvases and, at the same time, with all those others they represent. Art is my bridge into the world.
In this world, I often meet very special people, with some of whom I share the same thoughts, visions and passions. Every once in a while this results in a wonderful cooperation. I especially enjoy the cooperation with professional photographers, who provide their portrait photos as reference for my art. I find this tremendously enriching as the final art work on canvas combines our common knowledge and emotions about the subject.
I would like to thank especially these professional photographers for their cooperation so far:
Laia López Barnadas, Lynn Coffey, Anjan Gosh, Cliff Kareem Lasway, Hans-Joachim Reiter, José Javier Reyes und Helmut Schadt